Regular price
Sale price
$12.97 USD
Unit price
per
Sale
Sold out
Get ready to try our best-seller burgundy hair dye that offers stunning cherry-red color with a hint of purple. With our burgundy hair color, you can easily transform your locks into a stunning shade that covers grays and colors your hair with style.
Embrace the deep, velvety allure of Burgundy and make a statement with hair that works for all seasons. Infused with henna and aloe vera, let your true colors shine, and embrace the benefits of rich, vibrant, long-lasting hair dye.

Conditions and add shine

Covers your gray hair with brunettes undertones

Easy to apply and rinse

Boost manageability and helps with growth

Long-lasting results
Why Choose our Burgundy Hair Dye?
Easy to Apply:

Our Burgundy Hair Color makes it simple to achieve a stunning hair color. With a user-friendly application process, you can easily transform yourself that showcases your unique style.

Nourishing Formula

: Infused with nourishing ingredients, our hair color not only provides vibrant results but also cares for your locks. Experience the blend of botanical wonders that leave your hair feeling soft, silky, and smooth all day.

Richness and Depth

: Immerse yourself in the luxurious depths of Burgundy, a color that exudes confidence and adds a touch of mystery to your look. Embrace the captivating beauty of this hue that complements various skin tones and enhances your natural features.

Statement, you don't wanna miss:

Whether you prefer a bold and daring look or a subtle hint, our Burgundy Hair Color offers versatility to match your desired look. Discover the endless possibilities that come with this captivating shade.

Convenient packaging

: The package is shipped with all the right tools you need to color your hair. Mix, apply, rinse, and voila! Get professional-quality results at home.
Step into a world of boldness and elegance with our Burgundy Hair Color. Embrace the professional look at home as your hair becomes a stunning reflection of your style and personality. Let the deep and alluring hue of Burgundy empower you with confidence and magnetism. Experience the magic of self-expression and turn heads wherever you go.
Burgundy Hair Dye Aftercare:
 To allow color to fully set, avoid washing your hair for at least 48 hours after dyeing it. 
 To help color from fading, use a sulfate-free shampoo specifically formulated for color-treated hair
 How water can strip hair of it's natural oil, leading to color fade. Use lukewarm or cool water when washing your hair
 To keep your hair healthy and hydrated, use a deep conditioning treatment at least once a week
 UV rays can cause color to fade, so be sure to protect your hair by wearing a hat or using a hair product with UV protection when spending time in the sun.
 Heat styling tools such as flat irons and curling irons can cause color to fade, so avoid using them as much as possible. If you must use heat styling tools, be sure to use a heat protectant spray first.
By following these aftercare tips, you can help extend the life of your hair color and keep your hair looking healthy and vibrant.
 By Following these precautions, you can ensure a safe and effective henna hair dye experience. 
Do not Use:
*On broken skin or lesions 
*Until a 48 hours patch test is done with
*If client is allergic to PPD and/or hydrogen peroxide
*On pregnant clients without first consulting a doctor
*If skin rash, dizziness, shortness of breath, and/or swelling of the eyes/face occur
*If client is going to be in direct sunlight or a tanning bed right after treatment
Ingredients:
Henna powder(lawsonia interim), sodium peroxyhydrate, cellulose gum, magnesium sulphate, citric acid, silicon dioxide, sodium laurel, para phenylenediamine, para ammonia phenol, aloe vera leaves powder, 4-chloro resorcinol, 4-amino-2hydroxy toluene,1-naphthol
After Care

Store in a cool dry place.
Caution

For Professional Use Only:

This product is designed for use by professional cosmetologist. Hair colorants can cause serious allergic reactions; do not use on eyelashes. Ideal for use on roots and other small area. Keep out of reach of children. If swallowed or if you experience blistering, swelling or redness, seek medical attention right away.
Do Not Use :

On broken skin or lesion
Until a patch test is done
With metal bowls, spoons, or combs
If client is allergic to PPD and/or hydrogen peroxide
On pregnant clients without first consulting a doctor
If skin rash, dizziness, shortness of breath, and/or swelling of the eyes/face occur
In this case, rinse off color and seek medical help immediately
If client is going to be in direct sunlight or a tanning bed right after treatment
do not use sooner then 5 weeks since the last coloring
Share
View full details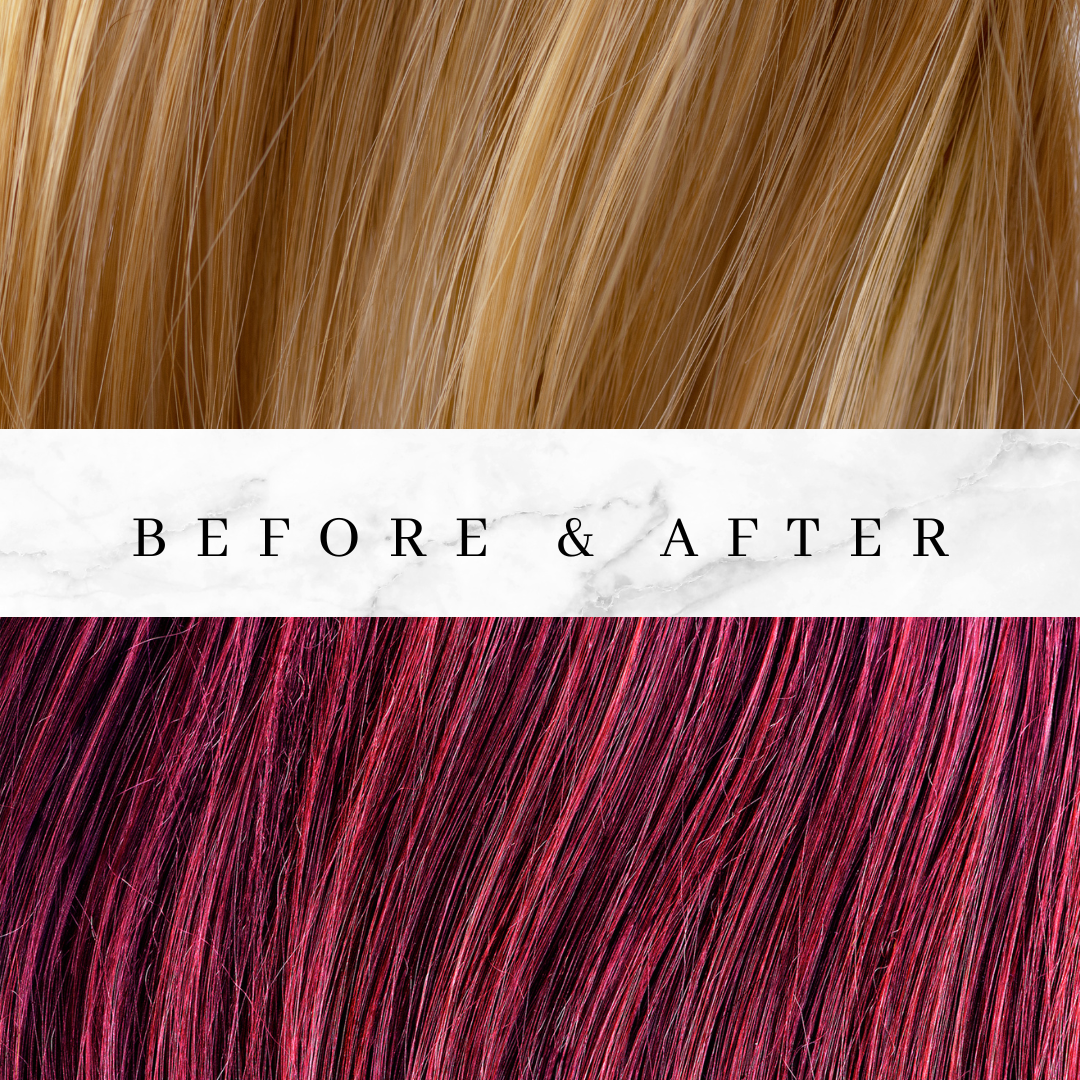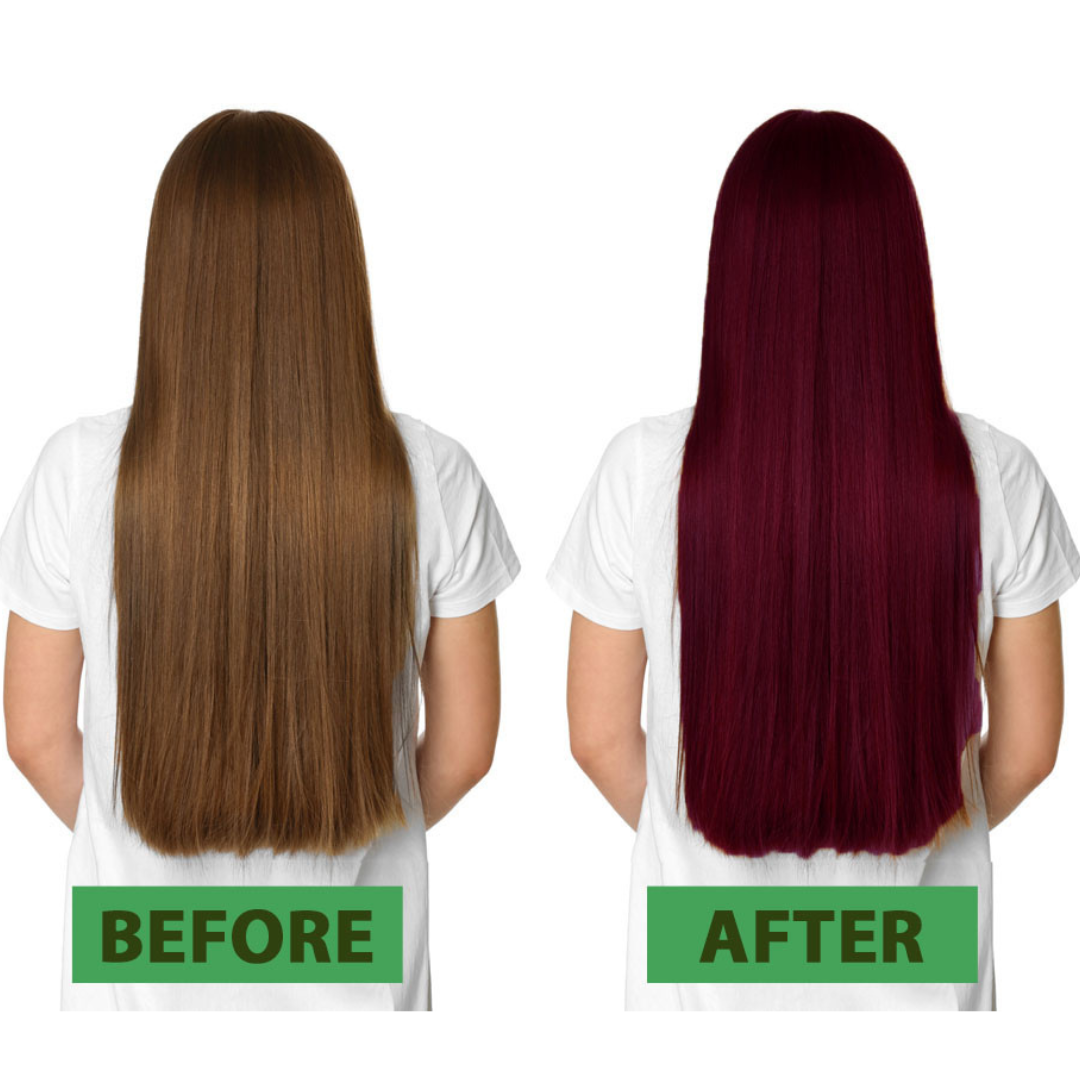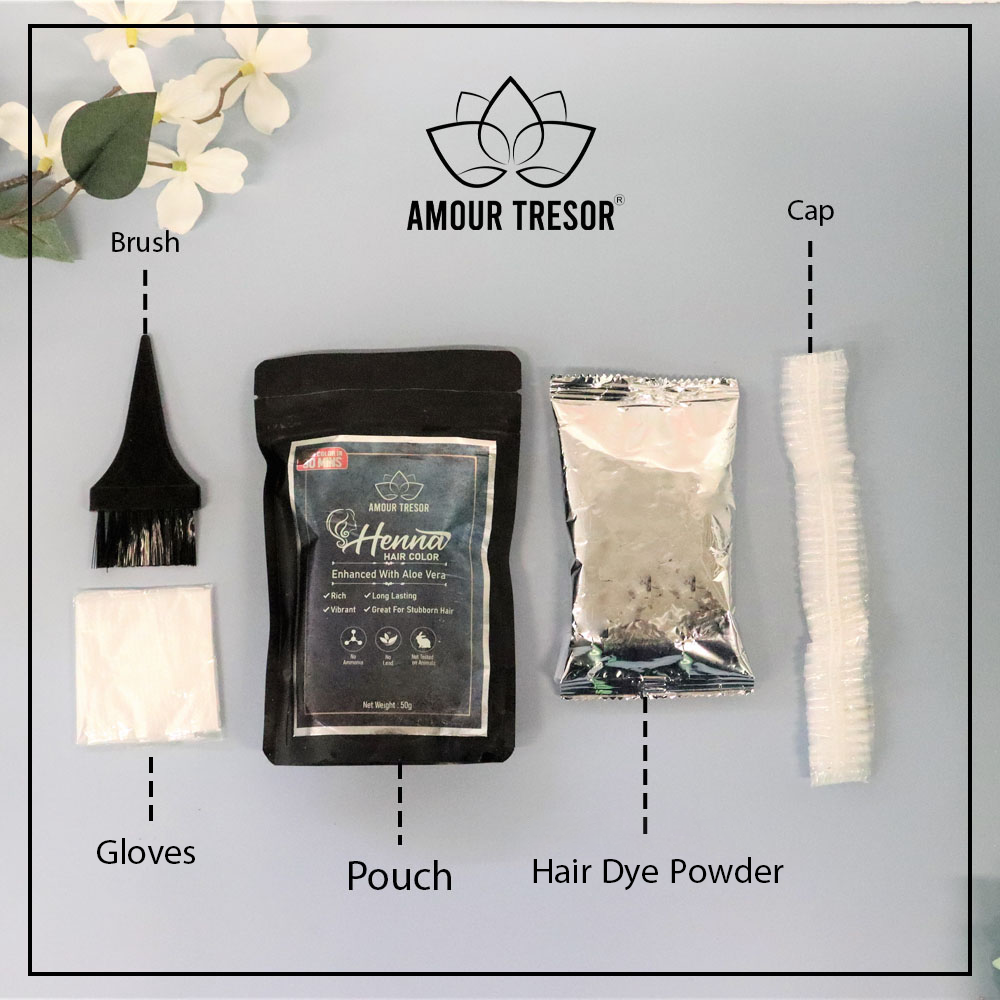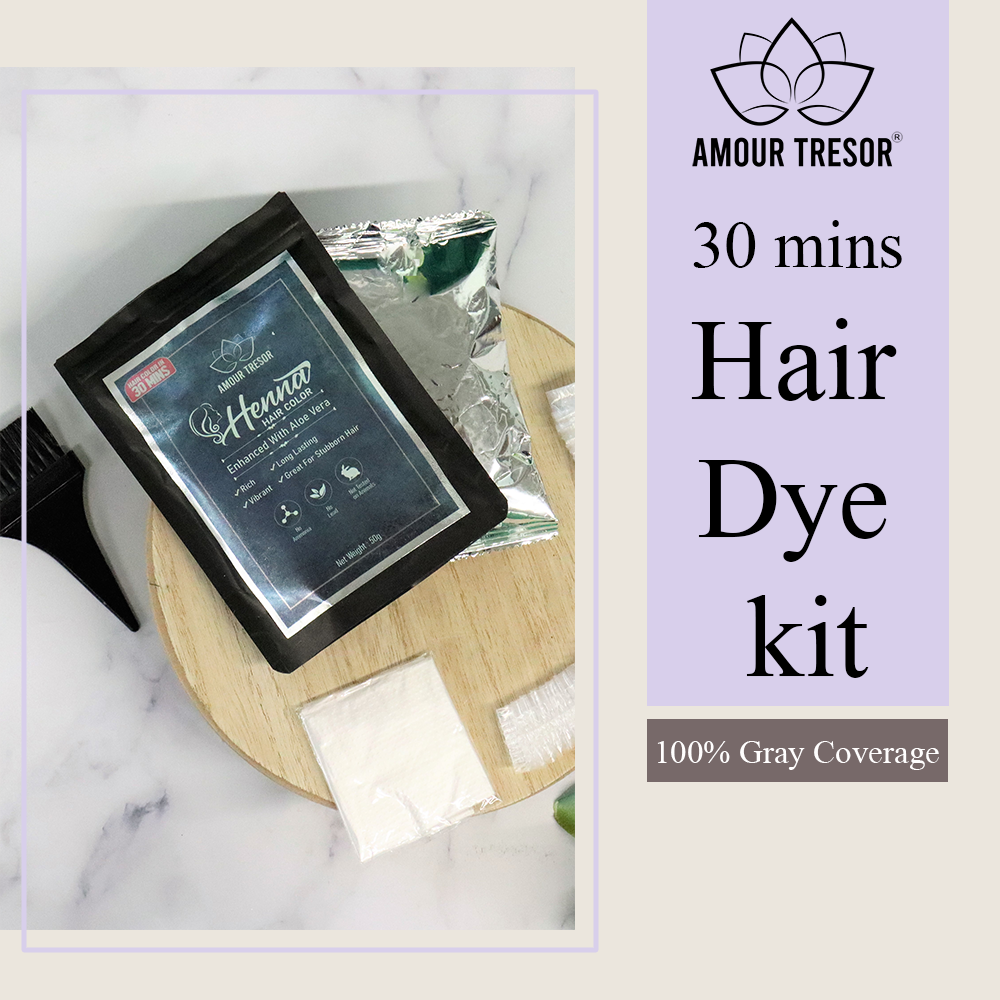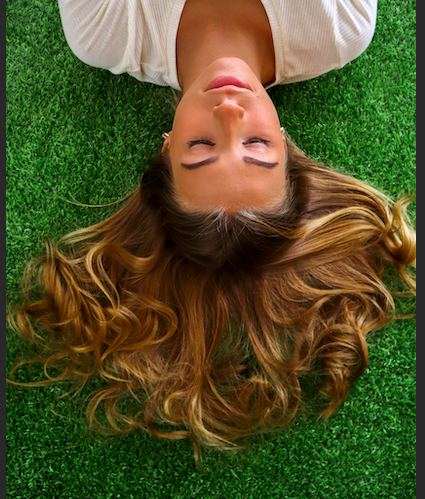 Henna Infused Hair Dye & Tint
A dye that not only colors your hair but naturally conditions, strengthens, and nourishes your hair. Making it softer and more manageable. Helps in promoting hair growth and managing dandruff. Experience Rich, Vibrant, & Long-lasting color like never before!